asami yamada pottery
山田麻未
東京生まれ。
美術大学で陶芸を学び、現在は都内のイベントをメインに活動中。
「毎日を少しユニークにする」をテーマに部屋の一角で物作りに取り組んでいる。
2022/
暮らすトコロマーケット(埼玉航空記念公園)
工房からの風(千葉ニッケコルトンプラザ)
"Sketch3″asami yamada pottery exhibition(神楽坂フラスコ)
企画展オトナのナツヤスミ(浜町ヒナタノオト)
二人展(南青山at Kiln AOYAMA)
二人展(赤坂ジャローナ)
過去の主な出展
TeraとRojiと
手創り市雑司ヶ谷
HandMade In Japan Fes
森、道、市場(愛知ラグーナビーチ)
陶ISM(横浜赤レンガ倉庫)
Village Pop Up Shop(立川伊勢丹)
Cat's ISSUE POP-UP STORE@ISETAN(新宿伊勢丹)
お問い合わせ
letter(at)asamiyamada.com
---
asami yamada pottery
Asami Yamada
I studied pottery at an art college and currently mainly engaged in events held in Tokyo.
Under the theme of "Making small unique thing every day".
We are working on to make beautiful things in corners of an apartment room, we use semi-porcelain soil blended based on fine soil used in Kutani-yaki in Ishikawa Prefecture which is not easily cracked or getting dirty.
Using a special electrical pottery's wheel we use a method called "Tatara technique" which creates a plaster type clay over the plaster mold.
We are heating it to 700 degrees at unglazed stage and 1235 degrees with glaze.
I hope that my work touches everyone's everyday life.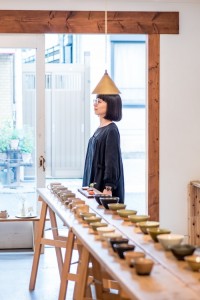 all photo by AyamiKawashima